Frequently Asked Questions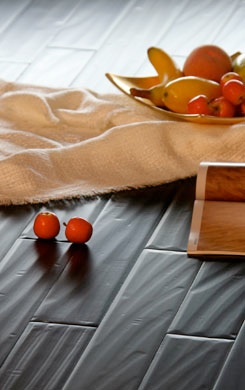 Why engineered hardwood flooring?
It is 75% more stable than solid wood flooring. The construction of multi-layer cross-grain lamination makes it very resistant to expansion and contraction to moisture and temperature changes; therefore, it is also resistant to warping, cupping and/or cracks.
Based on economical factors, it is much cheaper than solid wood. Each plank yields five times more coverage per area compared to solid wood flooring.
Engineered hardwood flooring can be installed below-grade, on-grade and above-grade, whereas solid wood is not suitable for below-grade installation.
There is pre-finished and unfinished hardwood flooring in the market. Which one should I choose?
Our pre-finished hardwood floorings are fully stained and coated with a highly durable UV-cured polyurethane coating. This reduces the installation time of having to sand and coat the flooring multiple times, which takes a few days to dry and re-coat. It will also minimize the chance of an uneven finish.
Our coating will help to minimize the urethane from discoloring when expose to sunlight and at the same time produce a more durable wear layer.
How do I know which species or color is suitable for my home?
This is based on individual preference. There are many choices and flooring comes in variety of species and colors. The important factor is you must like the wood grain and color. The flooring should complement your existing furnishing and accessories.
What plank width should I buy?
Our plank comes in various widths of 3-1/4", 3-5/8" and 5" . Not all species are available in all sizes. Consideration must be given to the size of the room when selecting the width of the planks. Narrower strips make a room look longer while wider strips make the room looks shorter.
Will my floor change color as it ages?
As a natural material, wood will experience subtle changes of color to a richer tone over time. The changes are desirable and expected, regardless of grade and species. Our Jatoba species has a unique characteristic of changing its color to a darker tone even a few weeks after installation. Exposure to sunlight will also affect color change.
I noticed that the colors of my floor are different between the area covered up with rugs and the uncovered area. What can I do?
If a rug is placed on a hardwood floor, a variation in color may occur between the covered area and the uncovered area. When the rug is removed from the floor, the particular area will eventually change its color to the same shade as the exposed area.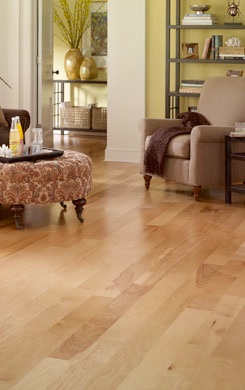 How do I know how much flooring to buy?
Determining the square footage of flooring to purchase is fairly simple. Measure the length and width of each room in feet. Multiply the length (L) times the width (W), which equals the the square footage for that particular room. Add the square footage from all rooms together, then add an additional 5% for safe measure. To determine the number of cases necessary for your project, divide the total square footage of your project by the case square footage and that will give you the total number of cases needed for your project.
How much extra flooring should I buy?
We recommend an additional 5% of your total order. This is to cover for installation and cutting waste. This also depends on the shape and size of the room, as well as the number of doorways.
What kind of maintenance is required?
Maintenance is simple. You only need to sweep, dust, vacuum or dry-mop the surface of the flooring. For more detailed information please see Installation and Maintenance.
How can I remove small scratches from my floor?
For small scratches, we recommend purchasing a touch-up kit, available at your local home improvement store.
Should I wax my floor to keep it shiny?
No waxing is required. Simply dry-mop, sweep, dust or vacuum to maintain the floor. (Note: Some vacuum cleaners have a rigid nylon or plastic beater bar which rotates at high speeds, producing friction and heat which could potentially damage your floor. Caution should be exercised when using a vacuum cleaner with this design.)
Can the engineered floor be installed in areas with high humidity?
Yes. You can install our flooring in Central America where the weather is generally very dry or in coastal area of North America where it is more humid. Do not install our engineered hardwood flooring where there is a high moisture content sub-floor.
Can I install flooring over a radiant heat floor?
You can install our flooring over a radiant heat floor. Prior to the installation, the sub-floor must be heated in order to dry the area. Otherwise, your floor will contract, shrink, crack, cup or bow excessively from the moisture left on the sub-floor.
What type of sub-floor do you have?
Installation methods are based on type of sub-floor where your flooring is installed. We recommend the following:
| | | | |
| --- | --- | --- | --- |
| Sub-floor type | Floating | Nail Down | Glue Down |
| Plywood | Yes | Yes | Yes |
| Wood Plank | Yes | Yes | Yes |
| Oriental Strain Board | Yes | Yes | Yes |
| Concrete Slab | Yes | Yes | Yes |
Acoustic Factors
Floating: produces "hollow" sound and has a soft walking surface.
Nail Down: does not produce as much of a "hollow" sound and has a softer walking surface.
Glue Down: A more solid feel walking on it.
< Back to top